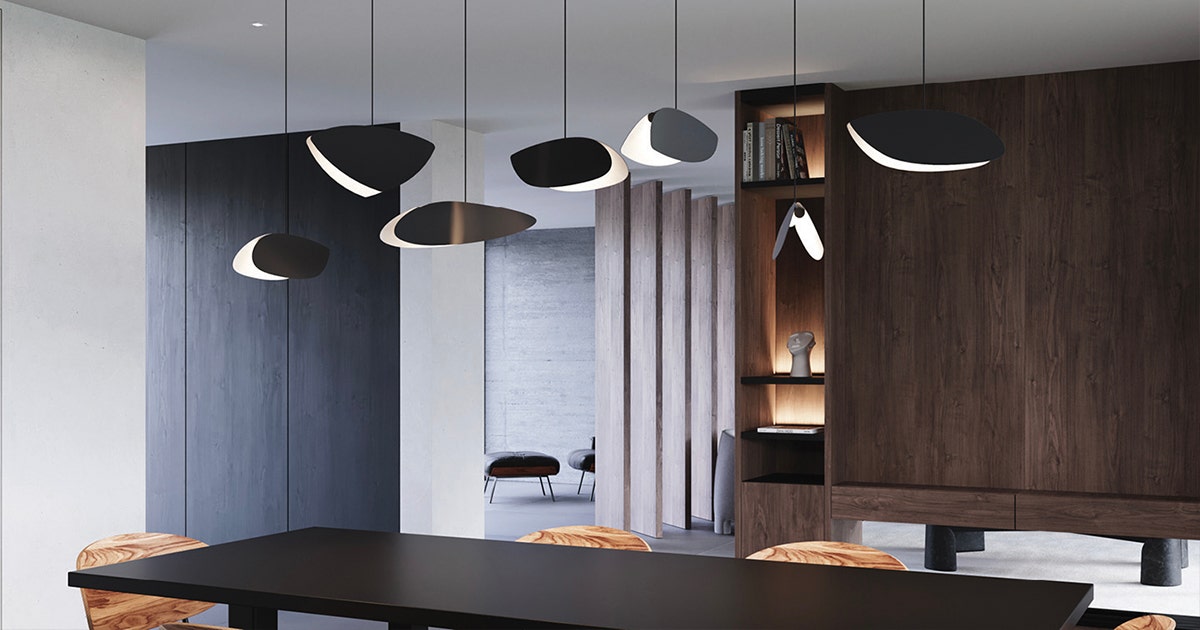 ---
THE LIGHTING GUIDE
Modern Lighting Ideas for an Inspired Dining Space
---
At its best, a well-designed dining room encourages gathering, camaraderie and good conversation. It strikes the right mood and tone for each occasion it hosts, using the architectural tools in its arsenal to achieve a delicate balancing act between different atmospheric desires. From one moment to the next, this multifaceted space can either be an ethereal and calm dinner party or a lively and inviting hub for family game night—making a modern approach to lighting essential to its success.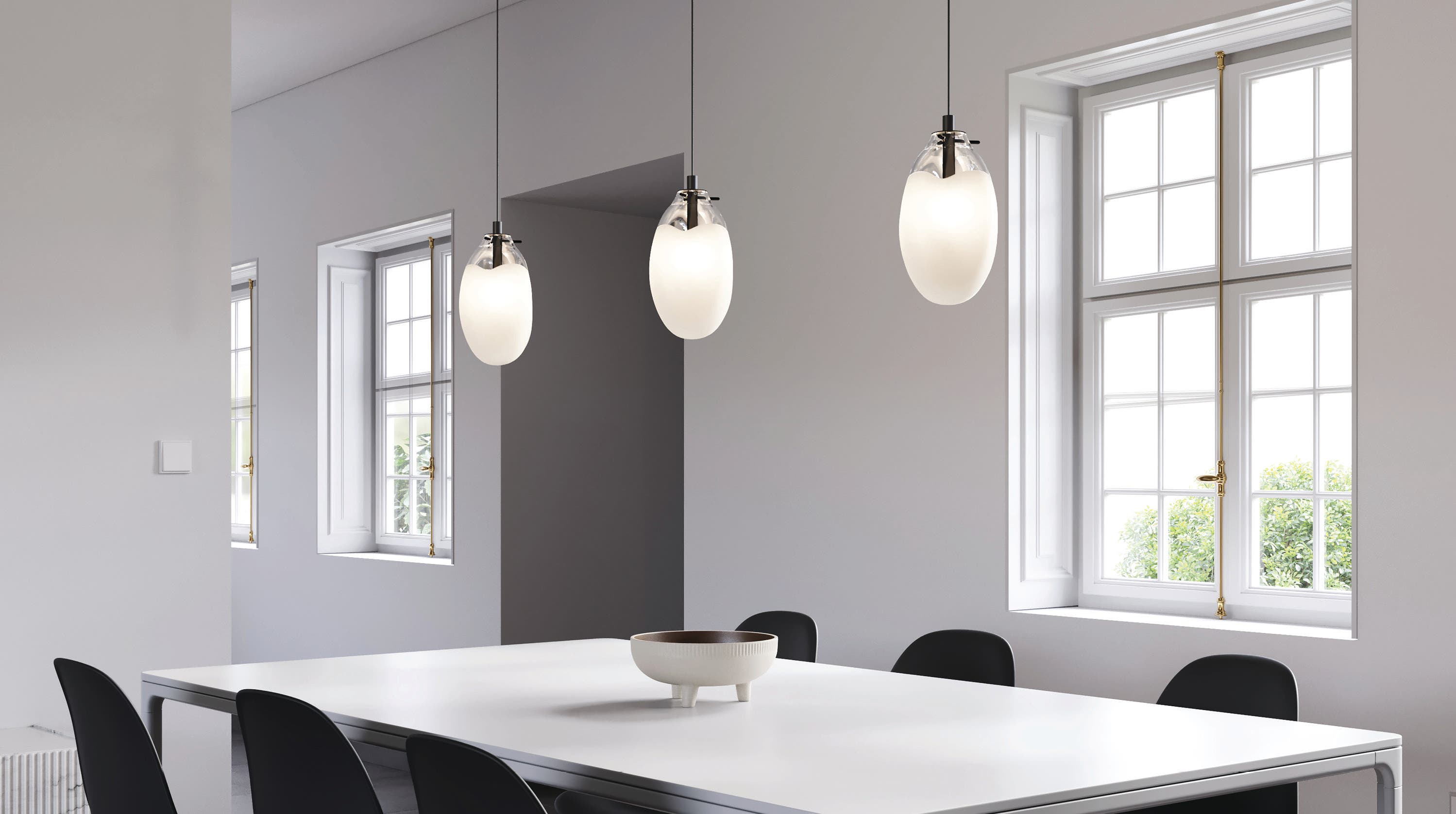 The right combination of modern lighting ideas can transform your dining room, leveraging the power of light to transform your existing space into a warm and hospitable place to dine. "Thinking of its inherent multifunctionality, it's important to achieve balance and honor flexibility in this space," says SONNEMAN founder and designer Robert Sonneman, adding, "Lighting comes in as a mediator to the many interactions that take place here."
Considerations for Modern Dining Room Lighting Ideas
No matter the size of your household or space, it's wise to first think about the many dining room lighting ideas before making design decisions around your space. When working through modern dining room lighting ideas, there's a few initial points to consider during the design phase, be it measuring your space or thinking about your desired aesthetic. Here are our guidelines on creating an inspired dining room with modernism in mind.
Evaluate Your Dining Room Space
Assess your current dining room setup, considering its dimensions, architectural details and furniture configurations. Is your dining area part of a larger open plan or a standalone room? Does it have crown moldings or a fireplace that interact with the overall scheme? What shape and size is your dining table? These details will help guide some basic decisions around lighting.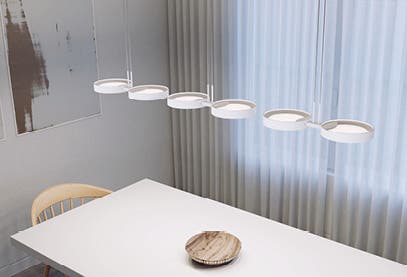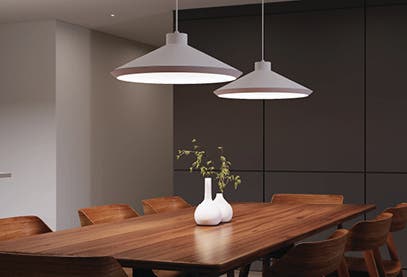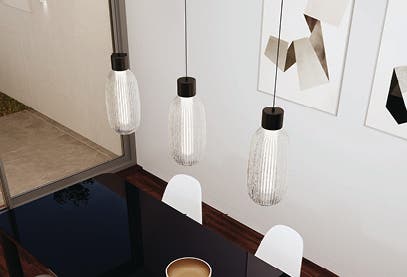 Start at the Center of Your Dining Room
Build upon your foundational layer of natural light with ambient lighting that emanates from the central axis of your dining space, diffusing light throughout. Here's where your room's dimensions come into play—it's essential to scale your central light source to the size of your space for optimal harmony.
Equally statement-making and streamlined, modern chandeliers serve as a dramatic focal point and provide evenly dispersed light distribution. Consider the shape and size of your dining table; a chandelier that's around a half to two-thirds the length of your table will suit your space best. We recommend combining organic and linear forms to create a dynamic interplay. If your table is square or rectangular, try pairing it with a more organically shaped piece, like the Stix LED Chandelier.
For smaller rooms, a single or series of pendants above your dining table creates a simple and well-rounded lighting scheme. If your room is more grand than intimate, try evenly spacing a series of two or three pendants along the center of a rectangular or oval dining room table. We recommend the Koma Edo or Friso Pendants for either application. Ideally, you'll hang your desired pendant lighting or chandelier thirty inches above the surface of your table.
Make it Understated
Modern flush and semi-flush mounts offer a low profile and minimal aesthetic for a more understated take on modern dining room lighting ideas. As with chandeliers and pendants, you'll need to consider the dimensions of your space as well as the shape and size of your dining table. For smaller spaces, we recommend the Vuoto and Illios LED Flush Mounts. Alternatively, for larger spaces, the Sabon Semi-Flush Mount marries the graphic impact and dimensionality of a chandelier paired with the lower profile of a semi-flush design.
Accent Appropriately
Accent lighting provides additional layers of light around your table, offering a warm glow. Place a duo of wall sconces above your fireplace or sideboard to highlight artwork and your favorite wares. We recommend the Malibu Discs or Meclisse Sconces. Alternatively, a table lamp, like the Monolith, can enliven the darker corners of your dining room when placed above a sideboard or bar area.

Create Dimensionality with Dimmable Light
Finally, to set the right mood and tone, it's ideal that your dining room lighting is dimmable. This allows light to ebb and flow along with your lifestyle and time of day. In addition, a dimmer allows you to layer light with other elements—be it natural light, additional accent lighting or candlelight—as you live and dine with your space over time.