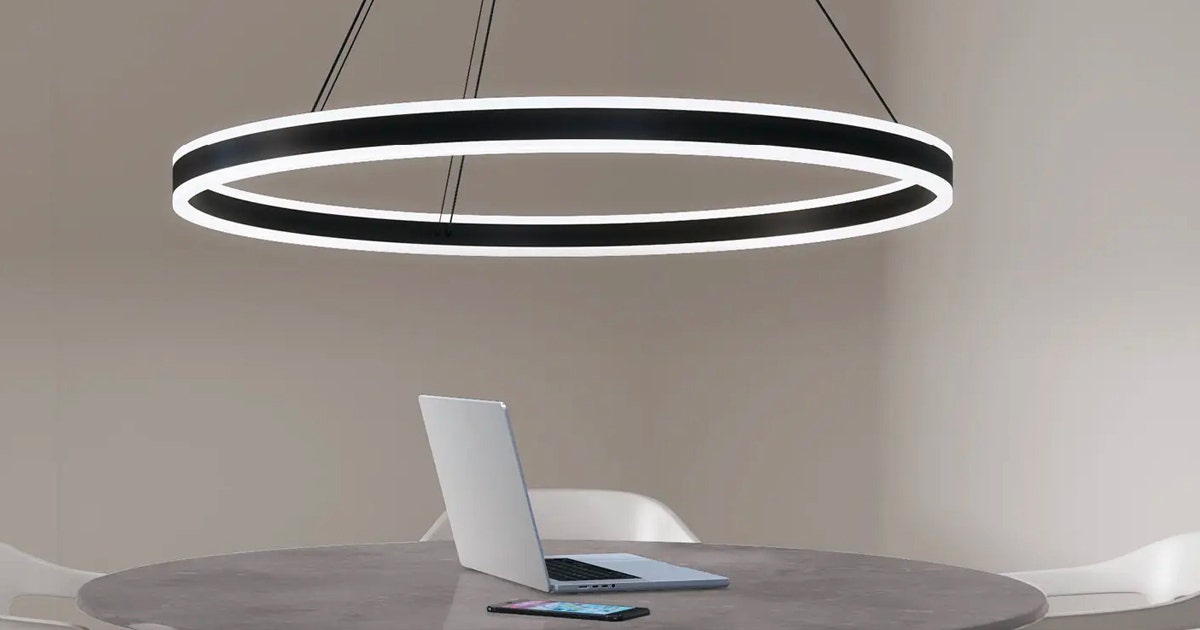 ---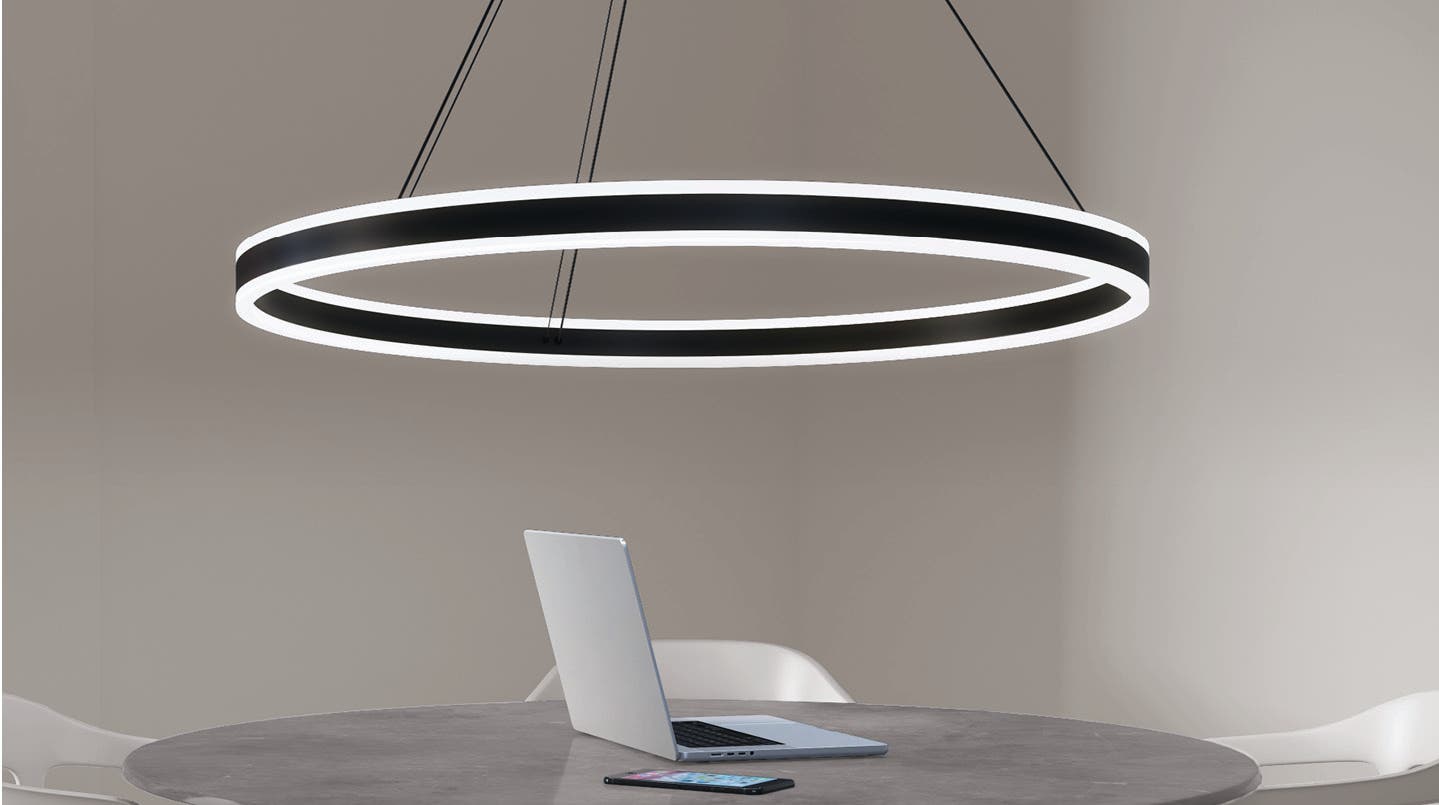 THE LIGHTING GUIDE
Create Home Office Harmony with the Right Lighting
---
Once considered a rare workplace benefit offered to a select few, working from home is now the everyday routine of many. Although some may find the process of designing a home office daunting, working from home offers the unique opportunity to create an environment of your own outside of typical office accommodations, one where tailored furniture, shelving and—perhaps most importantly—lighting are able to improve focus, productivity and wellbeing.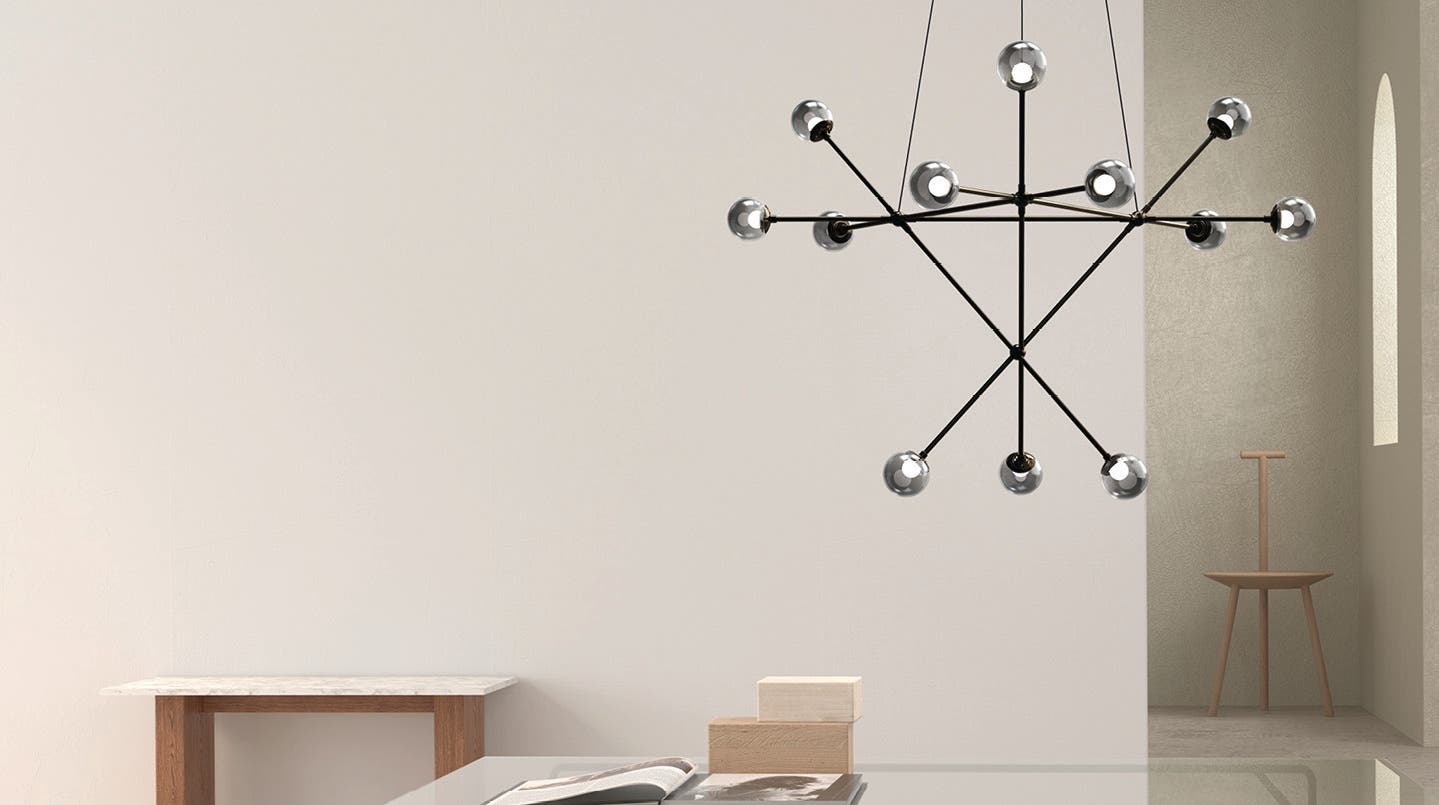 When working from home, modern lighting can make all the difference. "Lighting has a unique ability to set the tone of a space and, in doing so, shift people's mindsets." says SONNEMAN founder and designer Robert Sonneman. By selecting the right mix of lighting components for the task at hand, create an environment that meets the moment through modern lighting—be it energizing a space for meeting virtually with colleagues or focusing a desktop surface for heads-down work.
Home Office Lighting Ideas
Whether you're settling in to work from home for the long haul or just a few days a week, don't overlook the importance of lighting when it comes to thinking creatively and critically.
There's a number of modern home office lighting ideas that can create a warm ambience and calm working environment, from finding natural lighting sources to making it holistic. Here are our tips for rethinking your work from home environment to create home office harmony with modern lighting.
Find Natural Lighting Sources in Your Home Office
Before you select a location for your home office—whether it's a dedicated room or living room nook—find your natural sources of light. Natural light is easy on the eyes, able to improve overall wellbeing and adds a dose of vitality to any space.
Once you've found your natural light source, place your desk perpendicular to the window. This is an ideal medium point—it reduces the impact of glare at peak hours while providing natural illumination for video conferencing vignettes. Your natural light source will also serve as your base layer of light you'll build upon with flexible task and overhead illumination.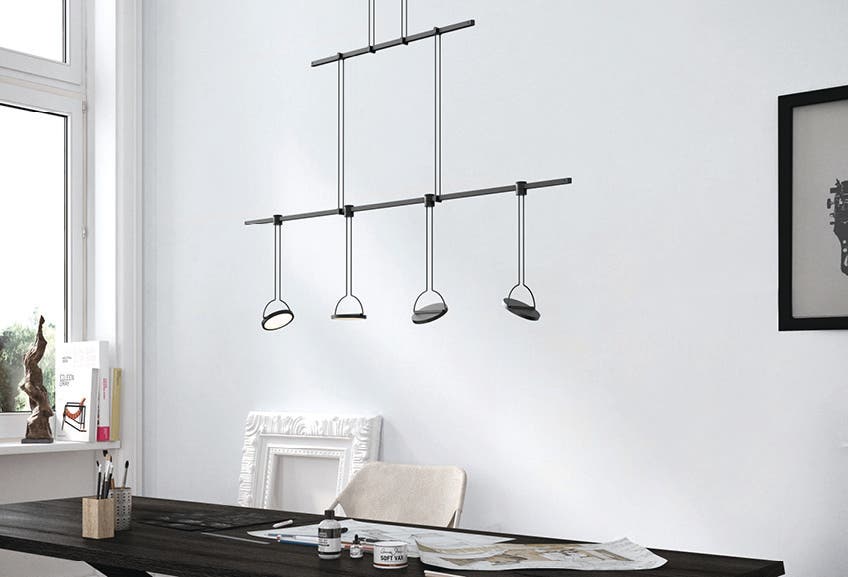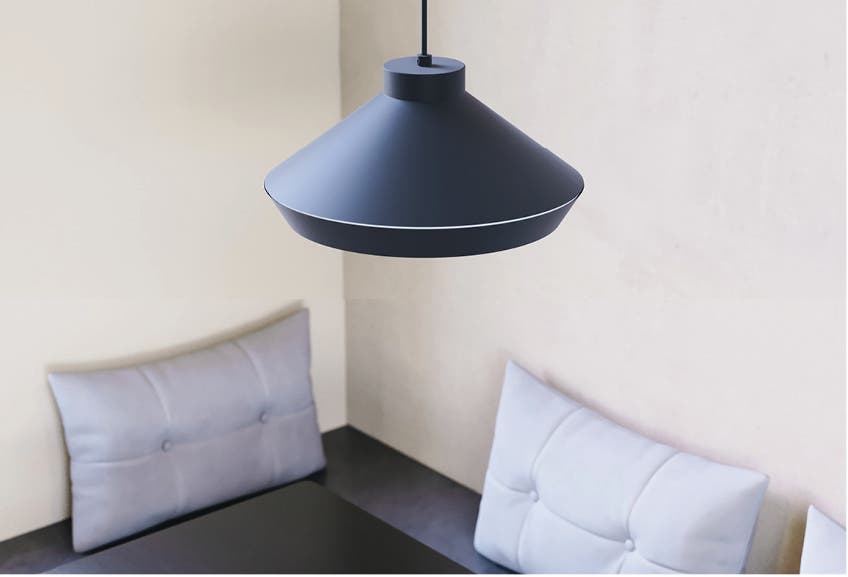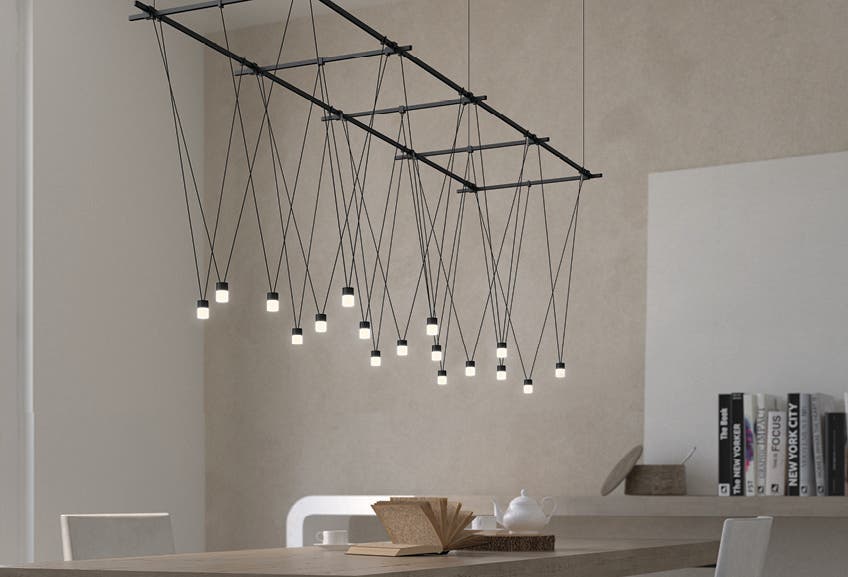 Incorporate Flexible Task Lighting
No matter a person's passion or vocation, the activities that take place in a home office are many and varied. Enter flexible task lighting: a tried-and-true classic suited for desktop work demands, from reading up on the latest research to writing your company's manifesto. Task lighting provides a functional directional light source for specific activities.
Make sure your task lighting is flexible and agile, like the SONNEMAN Quattro LED Task Lamp. You'll want to adjust and adapt settings and brightness to the task at hand, while illuminating darker areas as daylight fades away.
Light from Above
Leveraging multiple layers of light is paramount in any lighting design. Provide an additional light source above your desktop surface for a well-rounded home office lighting scheme. By hanging a streamlined, modern pendant above your desk, you'll add character and charm while providing more direct illumination of your workspace. We're fond of the Koma Meiji LED Pendant for a studious setting.
If you want a more understated light with a low profile, opt for a surface mount that provides both direct and indirect illumination—like the Vuoto or Offset LED Mounts—to shine a light on your next bright idea.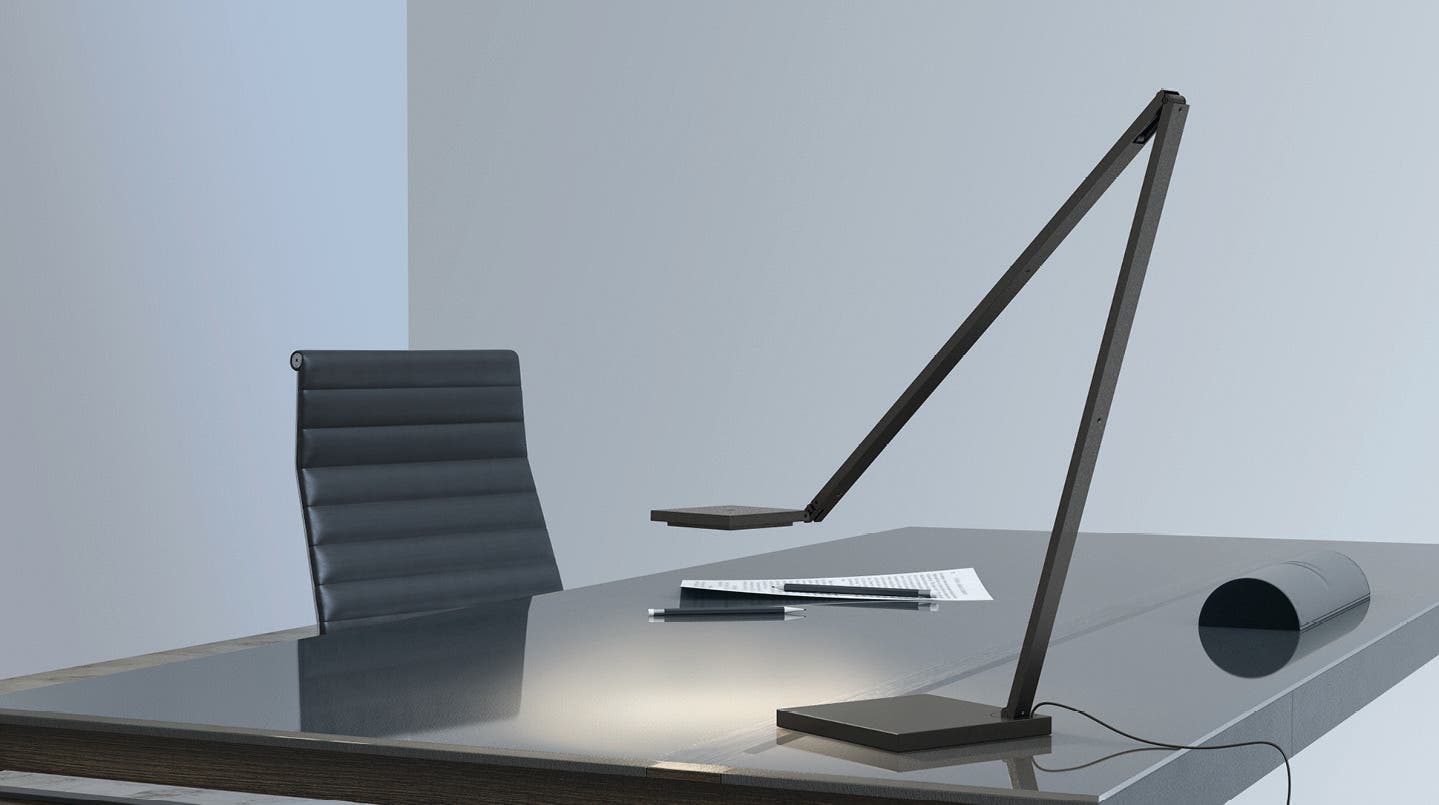 Make it Holistic
Overall, it's essential to utilize multiple sources of light that adapt to your workflow and the changing phases of daylight when deciding on home office lighting ideas
Focused tasks—like reading, writing, reviewing and working at your computer—can't be well-lit by one source alone, so start by optimizing your access to natural light and building from the base layer it provides. Ideally, your ambient lighting from above is dimmable, able to adapt to the ebb and flow sunlight throughout the day. And don't forget—always have a task light on hand to reduce glare from the computer screen and illuminate your desktop for focused work and a job well-done. We have a selection of table lamps to help accomplish this.